Saving Marine Life with Reef-Safe Sunscreen
Did you know that many of the mainstream sunscreens can cause damage to marine life and coral reefs? Some sunscreens contain petrolatum, and it takes years to biodegrade and can be harmful to marine life. Others contain Titanium Dioxide, when combined with seawater creates Hydrogen Peroxide which is also life-threatening to our friendly swimmers. Oxybenzone and Octinoxate can cause coral reef bleaching.
Hawaii, US Virgin Islands, and Aruba are just a few popular hot spots where you'll need reef-safe sunscreen, but if you're eco-conscious, you might want to consider making the switch regardless of your location. Reef-safe sunscreen is made from minerals while mainstream sunscreen is made from chemicals. Your skin is your largest organ, it makes sense to be using what is better for your body. It can seem daunting when making the switch but we have created a list of reef-safe sunscreens for easy identifying. 
All Good SPF 30 Sport Sunscreen Lotion

Hello Bello Sunscreen Lotion

Kinfield Daily Dew SPF 35

Kokua Sun care Hawaiian SPF 50 Natural Zinc Sunscreen

Mama Kuleana Waterproof SPF 30 Reef-safe Sunscreen

Manda Organic SPF 50 Sun Paste

Suntegrity Natural Mineral Sunscreen

Thinksport SPF 50 Sunscreen
We also found that these kid-friendly sunscreens are reef-safe too!
Aveno Baby Sunscreen

Baby Bum Sunscreen

Badger Clear Zinc Sunscreen

Blue Lizard Sunscreen

Sun Bum Mineral Sunscreen
These are just a few of the reef-safe sunscreens. Look for mineral-based sunscreens without Oxybenzone, Octinoxate, and Titanium Dioxide.
Always apply your sunscreen prior to going in the sun and wait a bit before getting wet. Reapply often!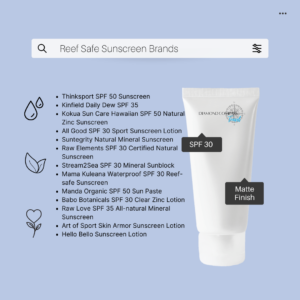 #diamondcompasstravel #reefsafesunscreen #followyourinnercompass