What's a trip to Las Vegas without noshing on some good food? Boring, that's what! This time around I decided that I was going to take notes and recap one of the best places we ate.
Today's Restaurant Recap is of Flour & Barley Brick Oven Pizza, Las Vegas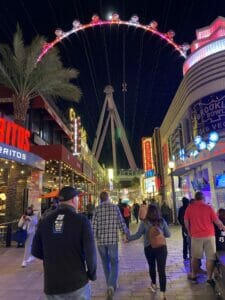 When we walked in, this tiny restaurant was PACKED. That's always a good sign! The bar serves many beverages but their signature item is the Craft beer! There is a variety of Italian-themed food but the real winner (for me) was the pizza! As we waited for our pizza I watched the Chef prepare a least one billion pizzas and slide them into the brick oven. Okay, maybe it was closer to 10-15 but the speed at which he was doing this task had me mesmerized!
I can't eat gluten without consequences so I chose this place mainly because they had a gluten-free pizza. This is a big deal, people! Finding GOOD gluten-free pizza can be tricky. Homemade crusts are iffy and back where I live the crust is always a frozen brand that tastes fine, but it's a thin crust and quite boring. I surely did not get boring crust at Flour & Barley. 
When I say that this pizza was good, I mean it! This was a deep-dish gluten-free pizza that they created in a rectangular pan and cooked in the brick oven! There was no cross-contamination by putting it on the same slab as the other pizzas because it was protected in a separate pan. They topped it with oodles of cheese and pepperoni. There were other flavors that you could choose from, as they offer customizations. I wanted pepperoni and cheese so the standard was perfect for me. 
I took my order to go and when I got into the vehicle, the rest of the group were practically salivating from the scent. Seeing as how none of them need to eat gluten-free and finding quality gluten-free pizza is hard, I didn't share. In fact, I wouldn't even let them see it. I just sat in the back seat feasting on the most delicious pizza I have ever had. I was able to put away one and a half pieces of pizza before I was stuffed. I'm a small girl but when I want pizza I can do some damage, so this fact surprised me a little. 
I'm going back. Just for the pizza. I don't care if I ever see a casino again but I will be going back to Flour & Barley! 
Flour & Barley is located in the Linq Promenade, on your way to the High Roller. The photo shared here is my photo but does not show the restaurant in any way. By the time I realized I should have taken a photo, I ate the pizza. Whoopsie!
**This is not a paid advertisement, this is a personal review of carb-filled deliciousness.