My Favorite Fish Tacos
Every year pre covid my husband and I would travel with our best friends that were also our neighbors prior to moving to the lake. Something we love about Mexico is that you can always try new things! 
On this particular trip, we stayed at an all-inclusive resort in Playa Del Carmen. We love staying at all-inclusive resorts because it's nice to not need to cook or do any kind of grocery shopping. The resort had this cute beachside Mexican restaurant that we loved so much, we kept going back for lunch every day! Our favorite dish was Fish Tacos. I'm not a huge fan of fish, to be honest, I usually need a margarita to eat it… But I LOVE fish tacos! These were authentic fish tacos, right down to the habanero sauce (which I don't recommend unless you have cojones of steel! It is SPICY!) Our group loves spicy foods but we assumed this green sauce was avocado or jalapeno… We were wrong! We had loaded up our fish tacos with the mystery green sauce and it was so spicy, we literally could not even finish our tacos! But once we reset our palates, we were back to the meal sans habanero sauce. (Just a little funny note, we unintentionally ate the habanero sauce again when we were at dinner on one of our tours there, from that point on we were very intentional about what sauces we were being served, ha!)
Since coming home I have done a little tweaking to the fish taco recipe. I found out shortly after that trip that I am extremely sensitive to gluten so we have had to make minor adjustments to our favorite dish to accommodate my new gluten-free lifestyle. 
You can use any type of fish you'd like but since I'm from the north, I generally use Walleye. We are a family of 4 and our kids are teenagers, so you can just about imagine how much food we actually consume on a normal day, you'll likely need to adjust this to your family size!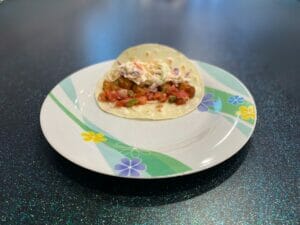 Gluten-Free Fish Tacos
3 medium-sized white-fish, cleaned and cut into bite-size pieces

2-3 eggs whisked with a little salt and pepper

Gluten-free breading or flour mixed with the following seasonings:

1 tsp chili powder

1 tsp paprika

1 tsp garlic powder

1 tsp cumin

1 tsp salt

½ tsp black pepper
Dry your fish bites with a paper towel. Dip them in the egg mixture and then into the flour mixture. Deep fry for the best crunch but you can also pan-fry them with butter or stick them in the air fryer. 
1 bag of coleslaw mixed with the following ingredients:

½ cup sour cream

⅓ cup of Miracle Whip or mayo

2 tablespoons of Sriracha (honestly, who measures this? I'm taking a guess at how much I generally use but you can adjust for your preferred spiciness.)

½ tsp garlic powder

¼-½ tsp salt

A squeeze of lime juice (we really like lime juice!)
Allow your coleslaw and dressing mixture to marinate for 30 to 60 minutes.
Gluten-free tortillas or corn tortillas lightly "toasted" on a hot pan. 
To assemble your tacos place your fish bites on your tortilla, top with the coleslaw mixture, and roll! 
We almost never have leftovers but when we do it is best warmed up in the air fryer the next day!